---
When was the last time you felt giddy with excitement at attending a business meeting or presentation?
a. All the time
b. Sometimes
c. Never
If you chose c) you are in the majority. Somewhere along the road, business has become burdened with a gravitas that borders on funereal. To paraphrase bestselling Irish author Marian Keyes, or rather her wonderful character Maggie Walsh: "That's why it's called work; otherwise it would be called deep-tissue massage." Taking ourselves too seriously is a modern workplace pandemic. So, it's time for some tough love: we are all contributing to making work… boring.
Why so serious?
I speak for a living. Every motivational speaker knows the number one tool that helps us engage any audience is humour. The same goes for business. That's right — I am advocating more laughter and humour during business hours.
Whenever I step on stage in front of a business audience, I know that people get distracted… wondering where I am from. So, to break the ice, I often share this story:
"I was so excited when I started my storytelling business that I raced home to tell my mother. My mother replied, like any good Indian mother (I slip into my funniest Indian accent): 'Is that even a job? Why don't you go into IT or become a doctor?'" Okay, so it's funnier when you hear it, but it always gets a laugh.
A couple of things happen at this point. I've resolved the puzzle of my identity, so people are free to listen to my message. And their expectations are heightened. So the presentation is already set up for success.
The facts on funny
To be honest, I was once anxious about engaging with humour at work. It was five years before I started using humour to play with my identity; I was worried that it might be offensive. Obviously it's not offensive to me and, as it turned out, nor is it offensive to other people. I am Indian, after all. But does the positive impact of funny stories on stage translate to using humour in the workplace?
The answer is yes. The case for using humour as a leadership tool is compelling. In a 2014 Harvard Business Review article titled 'Leading with Humour', Alison Beard wrote that if we make 'em laugh, it "relieves stress and boredom, boosts engagement and well-being, and spurs not only creativity and collaboration but also analytic precision and productivity".
Beard draws on research from institutions as serious as Wharton, MIT, and London Business School to support her claims. But do we need research to tell us how good we feel after a belly laugh? We know it works. The science tells us why: our brain and body are flooded with endorphins, and this makes us feel recharged, more optimistic, and happier. There's a spring in our step and we feel anything is possible. Now, imagine amplifying this energy and optimism across your team and your organisation.
As with any skill, using humour can be taught and learned. And you can learn to use humour with integrity and authenticity. It's about finding your personal style and then having the courage to make a small start.
If you want to short circuit the humdrum nature of business, stand out in a crowded marketplace or up your charisma quotient, then humour is your answer. What freed me up to flex my humour muscle at work was knowing we have to shift the dial only a little to be considered hilarious and deliver some great outcomes.
Please comment – I love hearing from you.
**Published originally in Huffington Post.
Photo credit: Creative Ignition via Foter.com / CC BY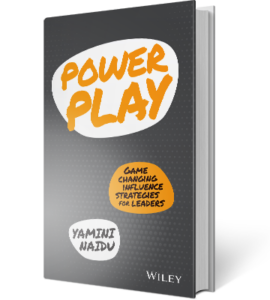 Power Play
Great leaders are mega influencers, but could their tools of influence be out of date? To influence today, you need more than just the traditional approaches of yell and tell (coercion) and sell (persuasion). With this book, learn new and commercially savvy alternatives that will help you deliver outstanding results in the modern workplace. Influencing others isn't magic – it's a skill that you can make work for you.
---
---