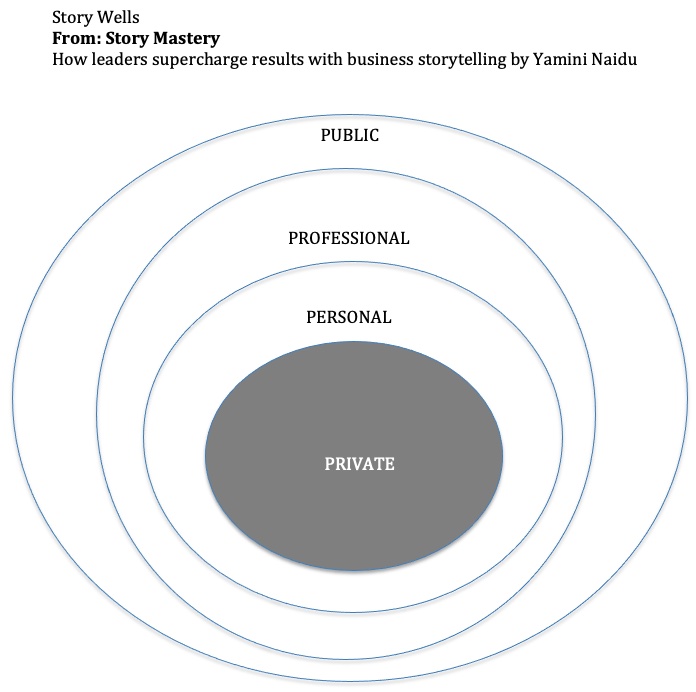 Shh, this is private . . .
---
People find it hard to believe that I am a deeply private person, given what I do for a living.
I'm a business storyteller and successful storytelling requires both self-disclosure and vulnerability.
I navigate these waters by deciding as a storyteller what I will and importantly what I won't share. After all, it's storytelling, not group therapy!
When working with clients, I recommend they use these 'storytelling wells', to draw stories from:
Public well-available to everyone. You might see something on YouTube or read a story online for example. But pleasssee no more starfish story!


Professional well – stories about things that happen at work, could be from your employees, customers or stakeholders.


Personal well – draws on your personal experiences for stories to share. This is the richest place to hunt for stories. You might feel vulnerable when you share personal stories, yet you know instinctively that they pack a punch. As in life, the greater the risk, the greater the reward. What keeps you safe is understanding the difference between your personal and private wells


Private well – contains the stories you decide not to share. Each storyteller must decide what is private for them.


Understanding the wells helps you get the balance right between vulnerability and over-sharing. They'll also give you a bottomless treasure chest of potential stories so you can throw the starfish story into the sea forever!
Which well will you draw your next story from?
Hooked
Dry facts and data fade from memory over time, but an engaging story is difficult to forget. In Hooked, communication and business storytelling experts Gabrielle Dolan and Yamini Naidu use real-world examples and proven, effective techniques to teach the skill of great business storytelling. They explain what good storytelling is, why business leaders need to learn it, how to create effective stories, and how to practice for perfection.
---
---