The Life-Changing Magic of Hanami at work
---
Millions of people can't be wrong. Both in terms of Mari Kondo's bestseller on the Life-Changing Magic of Tidying Up (the inspiration for this blog's title) and in the practice of Hanami.
Hanami huh?
I have just returned from Tokyo where I was working with Goldman Sachs on business storytelling. My trip luckily coincided with the cherry blossom season. Nothing prepares you for the beauty, the lushness and the bliss like sensory experience. Cherry blossom season however is fleeting, the magic ephemeral and the beauty disappears after a short intense period.
So the Japanese celebrate this season through Hanami. Hanami is the practice of viewing cherry blossoms when they are in full bloom. At a deeper level it is spending time contemplating their beauty and fragility. Hanami could be a walk through the park or sitting on viewing benches in front of the trees or attending picnic parties under the blooms. Hanami seems to be both an act of contemplation and celebration. Joyous to experience.
My experience made me reflect on how we could all do with more hanami at work.  Not literally as hard to do in Melbourne with narry a cherry blossom in sight. But metaphorically, taking time out to contemplate, to think about our lives and work. Instead of always relentlessly surging forward to conquer that next item on our do list, deadline or project.
Hanami or my interpretation is the space we make in our lives for pausing, contemplating and celebrating. Something as simple as 3 deep breaths, can help us experience a moment of hanami. Sitting down in your favourite café and savouring that perfect cup of coffee instead of rushing off with a take away cup. Walking through a park on the way to the office. Looking deeply at a work of art – immersing yourself in its beauty. Stopping to listen to a busker.
This might sound like schmaltzy advice. For me the gritty take away is the practice of hanami is a micro holiday at work. It creates more time and energy for us to do our best work, to go deeper with our creative instincts and savour life's moments.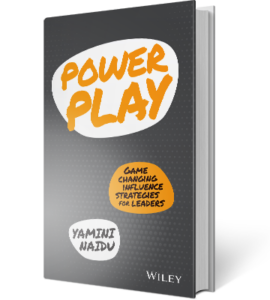 Power Play
Great leaders are mega influencers, but could their tools of influence be out of date? To influence today, you need more than just the traditional approaches of yell and tell (coercion) and sell (persuasion). With this book, learn new and commercially savvy alternatives that will help you deliver outstanding results in the modern workplace. Influencing others isn't magic – it's a skill that you can make work for you.
---
---