INSPIRING PRESENTERS MASTERCLASS SERIES
Presenting is a time in your professional life when you are at your most vulnerable. You must perform or 'die'. Our two biggest fears as adults are of failing and of embarrassing ourselves IN PUBLIC! And every presentation offers both these opportunities on a silver platter.
To add to this potent mix, the moment you stand up to speak all your other insecurities come bubbling to the surface. Will they like me? Did I prepare enough? Hope my slides work. I should have worn the other outfit.
Most of us respond to this pressure by seeking safety in morphing into a shrink-wrapped, low-resolution version of ourselves. Which is why you often see funny, animated people become wooden and robotic when presenting. Then you discover that training can help you.
Skilling and training are important. But how many presentation skills training programs, workshops, masterclasses or seminars have you already participated in? For most professionals the answer is usually somewhere between some and too many.
You may also feel you never seem to get off this training bandwagon. While the strategies and techniques may be good and effective, they depend on you implementing them.
The other challenge is remembering and applying what you learn. Everything seems like a good idea in the workshops, but once outside, real life hits you and it all becomes too hard. Or you make small, incremental changes, but the opportunity to win that pitch or promotion arrives before you are match fit. You're playing a long game. What's scary is that at this snail's pace of improvement you may not realise your full potential before it's time to retire!
But now there's a solution – the one ring to rule them all. The presentation training to end all presentation training.

Our exciting offer 'Making Good presenters Inspiring' focuses on the inspiring and X factor part of presentations. The two key parts that make the difference between a good presentation and an "OMG, an unforgettable audience experience".
Inspiration (storytelling and humour), are presented as the first two masterclasses. The third and final masterclass helps you discover your X Factor. You learn how to weave your X factor into every presentation turning even the mundane into magic.
Making Good Presenters Inspiring (masterclass series):
Imagine this new world. Where with every presentation you are sensational. Professional results, standing ovations, raving fans.
Are you ready to transform your presentations?
Are you ready to achieve personal and professional impact
Are you ready for this new future?
Then this series of masterclasses is for you. Warning, be prepared for radical results.
BOOK YAMINI FOR YOUR NEXT ENGAGING MASTERCLASS
Yamini's ability to help leaders unlock the power of storytelling in a fun and authentic way is inspiring, insightful and transformative. I am forever grateful that our paths crossed many years ago. Yamini has had such an impact on me, and I am sure on many others.
Edweena Stratton, Chief People Officer, Culture Amp
Grab the companion book for the INSPIRING PRESENTERS MASTERCLASS SERIES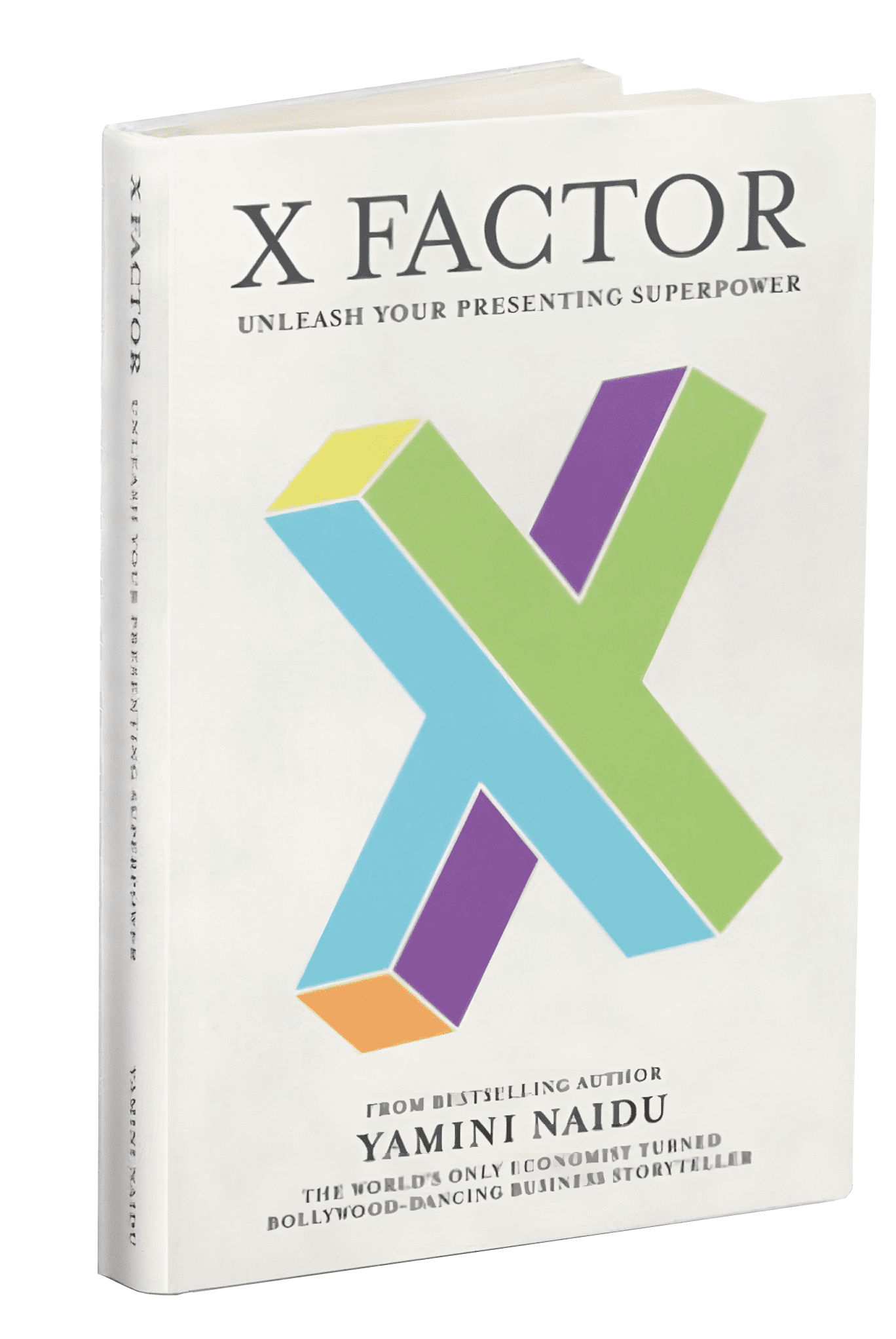 As a business professional, with every presentation do you:
connect, engage and inspire your audience?
move people to action?
wow peers, clients and boards?
win that pitch, promotion or business result?
achieve personal and professional impact?
Warning! This radical book is ONLY for presenters who want to achieve professional impact and business results. You don't want to just present; you want to create an audience experience. With every presentation you want to transform people, organisations and what's possible. This book is your first step.