How do we persuade people to adopt our ideas, listen to what we have to say and even be inspired to act?
If you lived in 16th century Venice, the answer would be easy. You would do it through fear, as suggested by diplomat and political theorist, Niccolờ Machiavelli. However successful, smart leaders in the 21st century know that hard power (fear, command and control, yell and tell) is not the way to create long-lasting, sustainable influence or change.
In the 1990s, Professor Joseph Nye introduced us to the idea of soft power–creating change through connecting, consulting and collaborating. Most leaders know that soft power is how we get people on board. Think of soft power as sowing seeds and planting a garden—worth the long-term results but difficult for the impatient. We saw a remarkable display of soft power on the world stage, at President Trump and Kim Jong-un's historic Singapore summit.This was after several months of hard power posturing that had the globe on edge.
Yet business leaders, who use just these two tools (hard power and soft power) will see many of their change efforts fail.
Check out my interview with Dr Susan Inglis Professor of Practice at La Trobe University to explore these ideas further.
The new currency of change is as old as time yet is the contemporary tool of our time. It is business storytelling. A purposeful, authentic story in business can influence, persuade and motivate people. Here's an example from a client on what this looks like.
John Kotter, the leading authority on change, declared, 'Change leaders make their points in ways that are as emotionally engaging and compelling as possible. They rely on vivid stories that are told and retold. You don't have to spend a million dollars and six months to prepare for a change effort. You do have to make sure that you touch people emotionally…'
Simply stated, hard power informs, soft power invites and story power inspires.
Not for a moment am I suggesting to share one story, and you will instantly influence 100% of the people. No one story can do that, and no one deserves that level of influence; you would never want to have a bad idea in that case. But, over and over again with clients, I have seen that purposeful stories, crafted and shared with authenticity, inspire, power and have seismic impact.
The currency of business itself has changed. Are you trading in this new currency?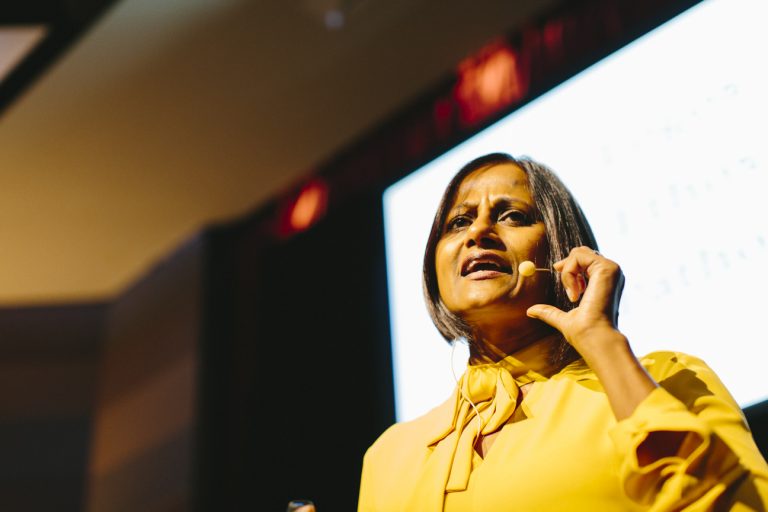 What's the secret sauce that makes some stories better than others and some storytellers more successful than others? The answers might surprise you.
Small beats big
In business storytelling, David beats Goliath every time. Quite often, my clients start by putting themselves under pressure, thinking that their stories have to be mega—about scaling Mount Everest or sailing around the world solo, for example. With products or brands we feel we have to share the entire history, instead of focusing on individual customer experiences.
But surprisingly, what works best is small, everyday, relatable stories. In a world in which bigger is better, brash is bought and bold is rewarded, this is a hard truth to face. In storytelling, every time you go small and intimate, you set yourself up for success.
Stakes matter
Even in a small, everyday, relatable story, something has to be at stake. Your reputation? Your integrity? Your career?
A story about a barista not making your coffee right, while annoying, simply doesn't have the stakes to engage your audience. We almost dismiss this as a first-world problem and you as a princess/prince! On the other hand, consider a story that starts with dropping your child off at school (most people can immediately relate to this) and then you discover (during the ride) that he is being bullied. The stakes are suddenly high. When that happens, your audience is immediately engaged. Equally important is that you are sharing something that matters to you as well.
Make it personal
A client recently highlighted how one of his CEOs used to obsessively share stories about Jack Welch and GE. The minute either of these two words was mentioned, everybody would roll their eyes, thinking "here we go again." Sadly, that CEO (who didn't last very long in the role) interpreted business storytelling very literally—meaning stories about business.
Business storytelling is about humanising us—allowing us to make an H2H (human to human connection) at work. There is no more powerful yet simple way to do this than through personal stories.
You can occasionally use business stories, but successful storytellers know to always go personal.
So, are you ready to use these 3 secrets to become an epic storyteller?
Please share, I love hearing from you.